Another attack. The cryptocurrency ecosystem is often prey to attacks. In addition to decentralized finance, exchange platforms are also targeted by hackers. The CoinEx platform just paid the price after the multi-million dollar hack.
CoinEx hack: $54 million gone
We announced it at the end of the day yesterday, the The CoinEx exchange platform was targeted by a hacker. He managed to gain access to the platform's hot wallets and steal millions of dollars.
"On September 12, 2023, our risk monitoring system detected abnormal withdrawals from several hot wallet addresses used to store CoinEx exchange assets. Quickly recognizing the seriousness of the situation, we immediately formed a special investigation team to further investigate the matter. »
At the time of the announcement, the balance was stacked $28 million stolen in ETH, TRX and MATIC. Unfortunately, the toll rose significantly the day after the incident.
According to the information reported by WuBlockchain, the total losses currently stand at almost $54 million. This includes in particular:
11,676 ETH, or $18 million;
12 million XRP, or $6 million;
231 BTC, or almost $6 million;
137 million TRX, or $11 million;
29,000 BNB, or $6.2 million;
141,000 SOL, or $2.5 million.
The platform has paused withdrawals and deposits pending the detection and correction of the error.
>> Safety is the basis! To keep your cryptos close to you, trust Ledger (commercial link) <
Post-mortem situation: refunds on schedule
A few hours after the incident, CoinEx teams up published a message on X (formerly Twitter) addressing the situation.
On this occasion, the platform announced that the User funds were safe and intact. In addition, CoinEx is committed to reimburse all losses as a result of the attack on the affected parties.
"Affected parties will receive 100% compensation for any losses resulting from this violation. For added security, deposit and withdrawal services have been temporarily suspended and will resume after further review. »
Additionally, the platform will release a full report on the incident and timeline in the coming days to inform the community.
Lazarus behind the hack?
According to information reported by crypto researcher ZachXBT, it appears that this attack took place led by North Korean hackers.
Indeed, it appears that the latter accidentally linked a wallet used during the CoinEx attack with a wallet used during that of the crypto casino Stake. As a reminder: the casino The stake was hacked for $41 million.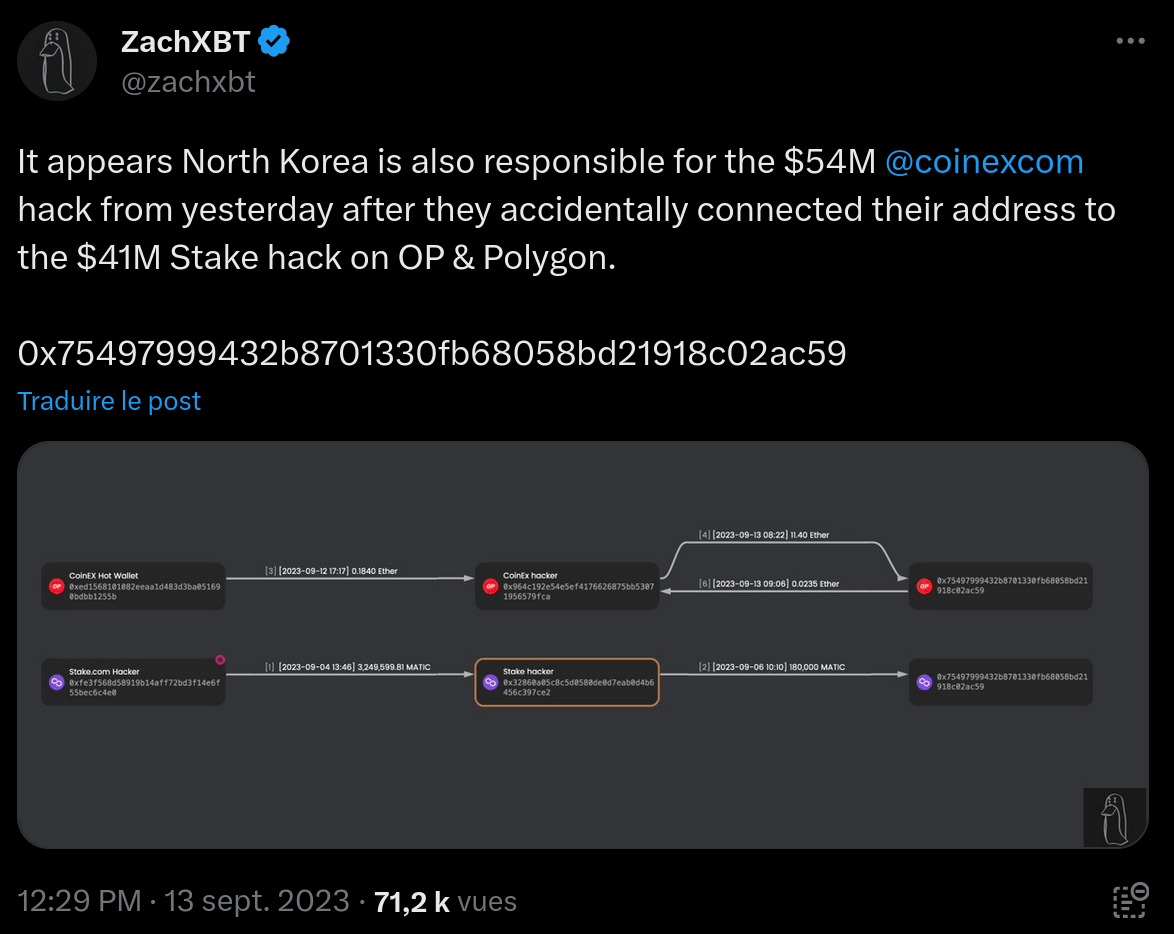 Clearly, this new lack is adding to the heavy toll for 2023. Since the beginning of the year, more than $1.25 billion stolen from cryptocurrencies. So 2023 could be 2022 and its $3 billion could be stolen.
Disasters and hacks don't just happen to other people! It is best to never entrust the security of your cryptocurrencies to a third party. To sleep peacefully, equip yourself with a Ledger secure hardware wallet, there is something for every budget. Your security is priceless (commercial link).